Dry Eye Relief at Home
We offer a variety of products that can be used at home to supplement your in-clinic dry eye treatments. We are happy to recommend products that are right for you.
Artificial Tears
OPTASE Dry Eye Intense Drops,
Optase Intense is an eye drop containing sodium hyaluronate. It comes in a unique bottle that is ideal for this preservative-free product. This formulation provides long-lasting relief for people with moderate to severe dry eye.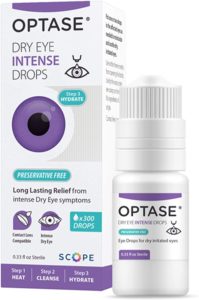 OPTASE Dry Eye Spray
Natural and preservative free ingredients in an innovative and simple to use bottle. Relieves dryness and irritation of the eyes and the eyelids.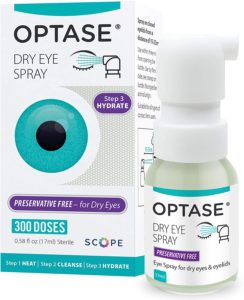 Refresh Optive Mega 3
Refresh Optive Mega 3 are preservative-free, low blur, lubricating eye drops are formulated with flaxseed oil to treat eye dryness and provide extended relief. They also support all 3 layers of the tear film damaged by eye dryness and help prevent tears from evaporating.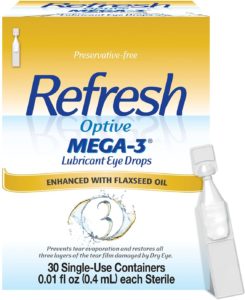 Ointments
OPTASE HYLO Night Gel
This nighttime ointment relieves symptoms of burning, itching, dry eyes by forming a comfortable, long-lasting protective film on the eyes. It contains vitamin A to help improve the tear film and protect the eye's surface.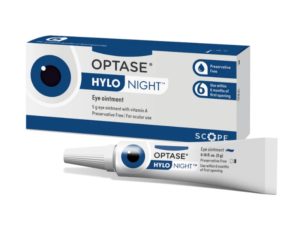 Eyelid scrubs & Cleaners
OPTASE TTO lid wipes
A gentle and preservative free, Tea Tree Oil (TTO) based lid wipe for daily eye lid hygiene.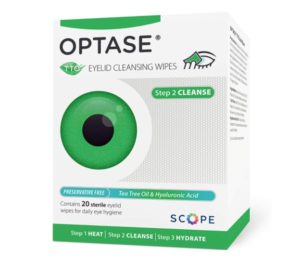 OPTASE Protect Cleansing Spray
A unique hypochlorous acid (HOCl) eyelid cleansing spray. The spray cleanses the eyelids and eyelashes, helping to improve the appearance of the eyes and eyelids.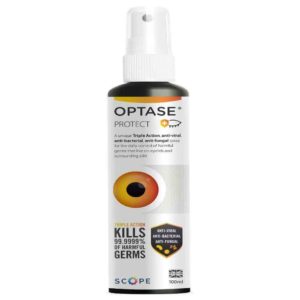 Compresses & Masks
OPTASE Moist Heat Mask
This moist heat mask absorbs moisture from the air. Once activated by microwaving, it releases moist heat from the mask onto the eyelids, loosening oils in the meibomian glands. It is reusable and washable.
USB Plug-in Heat Mask
The heated eye mask can improve blood circulation in the eyes, relieve eye fatigue, and prevent vision loss, relieve tension and stress, increase energy and help your eyes relax.
USB powered.
Eye Echo Hydrating Night Time Mask
These overnight masks create a moisture-rich environment for the eyes, eyelid, and surrounding skin so the area is hydrated when you awake. They help relieve dry eye during sleep and are suitable for mild to advanced cases of dry eye.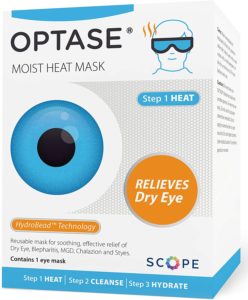 Eye Health Supplements
TG Omega-3
With a proven record of trust, reliability and scientific research in our Triple Carotenoid Formula, MacuHealth is proud to bring you TG Omega-3, the highest triglyceride form of omega-3s. TG Omega-3 offers a pure and potent formula at 90% concentration with 2,200 mg of EPA and DHA combined per serving.
Omega-3s are essential for every stage of life and offer benefits from lowered risk to cardiovascular diseases to better cognitive function. Both EPA & DHA have been studied and found to be beneficial for dry eye, and supplementation with omega-3 fatty acids is recognized as a key first step in the management of the disease and its symptoms.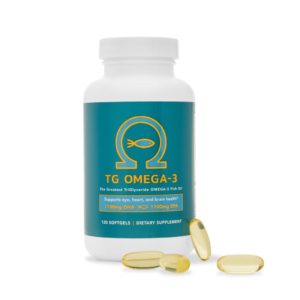 Ocular Skin Care

At Oculaire, our mission is for you to show off your best self, and our products are designed with your skincare in mind. Developed by leading dermatologists, plastic surgeons, and eye doctors specializing in Ocular Surface Disease, we offer for the first time a one-of-a-kind, anti-aging solution: formulated with all-natural ingredients, utilizing medically backed research, and infused with Alereve™ – a proprietary, patent-pending formulation for the benefit of skincare and clinically proven to improve ocular surface inflammation.
As physicians with an eye towards beautification, we know that certain anti-aging ingredients, such as Retinol or Vitamin A derivatives, can be detrimental to patients with Ocular Surface Diseases. As such, Oculaire was designed to incorporate the latest scientific and medical research with the highest quality, homoeopathic ingredients to create a unique, proprietary blend that is both healthful and luxuriant. From the soothing green tea mask – Masque, to the microdermabrasion cleanser – Massage, you will find within our panoply of products both the relaxing and revitalizing effects that your skincare regimen is longing for and deserves. Your beauty and comfort is our mission, and you'll find it in every product. Our extensive line of skincare products are meant to be used in tandem with one another, such that the benefits are compounded synergistically.
Never before has skincare sought to increase the health and comfort of the eyes while attending to the suppleness, beauty, and radiance of the skin, but that is just what we intend to do. So please, feast your eyes, and pamper them too, on Oculaire.